Local Edmonton Mover- Free Quotes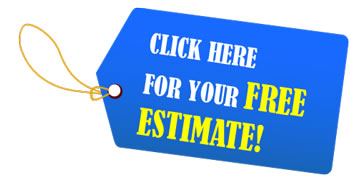 If you are looking for a reliable Mover, you came to the right place. Moving can be a long, stressful task. With little knowledge on storage, packing and organizing, individuals can find the experience challenging and difficult. At Action, we understand how overwhelming and time-consuming it can be move to your new home. As professionals we understand that time is of the utmost importance. We believe that there is no such thing as a difficult move and as a result you can expect a stress free move.
Safety and Security
Many Edmontonians dread moving out. Why? Because moving is usually associated with stress and exhaustion. You can eliminate the stress of moving by hiring a professional mover. Coordinating and planning a move is a full time job.
At Action we pride ourselves on our dedication to Safety and Security; which many movers often neglect. When movers cut corners to save time, you end up with damaged or broken furniture and valuables. With the latest know-how on safe storage, we are proud to provide our clients with professional and cautious moving services. We take good care of your possessions, from loading, transportation, to their final destination; you can feel at ease knowing your belongings will be nicely arranged in your new home.
Residential Moving - Save Time and Money
Moving across town or to a neighbouring city? Our moving services are easily accessible to all areas of the city and surrounding regions. We provide moving and storage services in Edmonton, Sherwood Park, St Albert, Spruce Grove, Fort Saskatchewan and Leduc. Moves are our areas of expertise and our professional movers are backed with years of experience and expertise. We guarantee the best and fastest routes to and from your destination; avoiding any delays and further charges. We are your Edmonton Moving Company, give us a call.
One of the differences between local and long distance moving is the capacity of the truck or van used for transportation. Many companies charge an hourly rate, while long distance moving is billed based on the size of the vehicle used. Either way space is a key factor. Expert organization and planning must be utilized when taking into consideration the amount and size of furniture, boxes, and other items that can fit inside the truck. At Action Moving we value speed, efficiency, and organization. Action Moving has 3, 5 and 7 ton moving trucks.
Edmonton Moving Company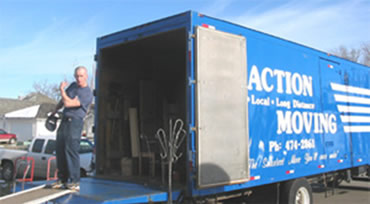 Putting your trust in a moving company to handle your belongings safely and efficiently is often one of the biggest concerns when hiring movers. Action is recognized in Edmonton Alberta for our affordable prices and friendly service. We are a team of highly trained and knowledgeable movers dedicated to providing you with professional moving services and advice. It is our priority to understand all of your moving needs and deliver quality assistance.
Moving is a big step in life towards a brighter future for you and your family. It is our aim to provide you with a sense of comfort and peace of mind as you begin to settle in your new home. With more than two decades of service and experience, Action Moving is one of Edmonton's top local movers. Call us to book your stress-free move today (780) 474-2861.
Moving and Storage Services
Action started moving Albertans in 1988. We are Edmonton based movers that truly care about customer satisfaction. The tips below will help you (and us) to ensure a smooth and organized long distance or local move. We provide residential and business relocation services.
When planning a residential move be sure to give yourself time to organize. Assess how many persons are needed for your move. Try to spread out the work with planning. Pack a few boxes every day a month before moving. Confirm your move with Action. Try not to move on very busy days, near the beginning or end of each month.
Determine what accessories you will need: bubble pack, tape, drop cloths, mattress and furniture covers and packing boxes. Have a garage sale or donate unneeded items. Discard all flammables, such as paint and gasoline, at the appropriate recycling facilities.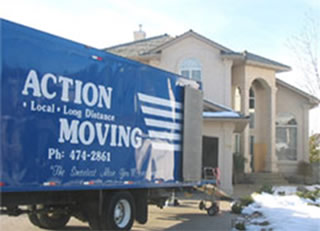 Moving Tips:
Keep the following supplies handy for packing:
Boxes, marking pens, bubble wrap, newspapers and tissue
Tape and scissors
Tape measure
Use strong boxes and containers that can be secured tightly. Pack audio-video equipment in their original boxes. Label cables and tighten transit screws. If removing screws, tape them to the objects they are removed from.
Avoid loading more than 50 pounds into one container. Provide your house movers with important information by labelling each box and indicate the following: 1) Which room it should go in. 2) Whether it is fragile. Cushion contents with packing materials such as bubble wrap, newspaper or tissue. Save room by packing things in your towels, sheets and blankets. Pack books tightly on end in small boxes. Have rugs and draperies cleaned before residential moving and leave them in the wrappings for the move. Pack medicines in leak proof containers. Carry all valuables with you.
Moving House Plants:
Put your plants in a black plastic bag, along with a bug/pest strip. Close the bag and keep in a cool area overnight to kill any pests on the plant or in the soil. The day before your move, put the plants in a cardboard container. Hold them with dampened newspaper or packing paper. Use paper to cushion the leaves and use a final layer of wet paper on top to keep them moist. If you must leave your plants behind, then take cuttings. Put them in a plastic bag with wet paper towels around them.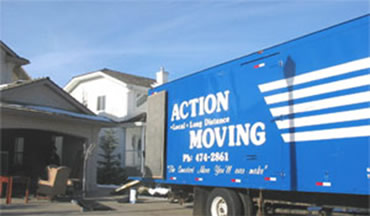 On the day of your move, set the boxes aside and mark "DO NOT LOAD" so our house movers won't place the items on the moving van. Close the boxes and punch air holes in the tip before leading into your car. When moving, park your car in a shaded area in the summer and in a sunny spot in the winter. Upon arrival, unpack the plants as soon as possible and sit them in a place that is not too sunny until you can place them.
Moving Pets:
Cats and dogs can be taken in your car so remember to take along enough food and water and a leash for longer trips. Animals do get carsick and require frequent stops along the way. If necessary pets should be transported in pet containers. Where necessary carry your pet's documentation and health certificates with you.
Moving can be overwhelming and time consuming; Action Moving is your Edmonton mover. We are quick and efficient. Contact our office in Edmonton today for a free quote, (780) 474-2861, to help plan your next move.