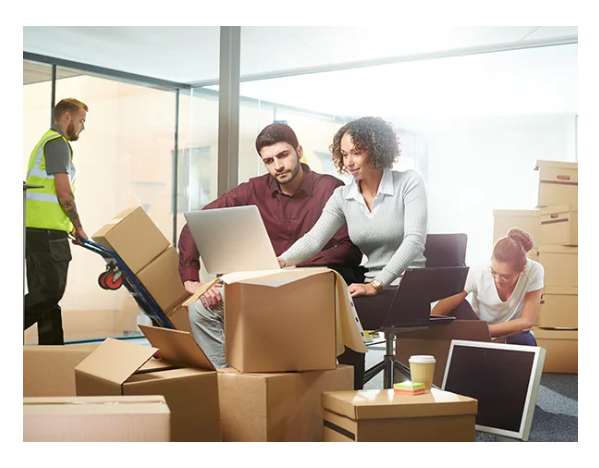 Businesses move for a variety of reasons. They may be relocating to larger facilities to accommodate growth, downsizing to reduce expenses, or moving to a new location to be closer to their customer base. Whatever the reason, corporate relocation can be a huge undertaking. The good news is that there are ways to make the process easier and quicker. In this article, we'll give you some tips on how to do just that.
Packing Tips for Your Corporate Relocation
Relocating for a new job is always exciting, but it can also be a bit overwhelming. There's a lot to think about and organize, especially if you're moving to a new city. But don't worry – we've got you covered with our corporate relocation packing tips.
1. Start early and make a list. This will be your game plan for packing everything up, so you don't forget anything important.
2. Go through your belongings and decide what you really need and what can be left behind. This is a great opportunity to declutter your life and get rid of anything you don't use or need anymore.
3. Pack essentials first. Make sure you have all the things you need for your first few days in your new place – clothes, toiletries, medications, etc. This way, you'll be comfortable while you're getting everything else sorted out.
4. Label everything clearly. This will save you a lot of headache down the road when you're trying to find things in your boxes.
5. Use good quality packing materials. Cheap boxes might fall apart and damage your things, so it's worth spending a bit extra on good quality boxes and packing tape.
Unpacking and Settling In after Your Move
After you've completed your corporate relocation, it's time to unpack and settle into your new home. Here are a few tips to make the process as smooth as possible:
1. Start with the basics: Unpack your essentials first so that you can start settling into your new home right away. This includes items like clothes, toiletries, and bedding.
2. Get organized: Once you've unpacked your essentials, take some time to organize your new home. This will help you feel more settled and make it easier to find things when you need them.
3. Make it feel like home: Add personal touches to your new home to make it feel more like yours. This could include photos, artwork, and knick-knacks.
4. Get to know your new neighborhood: Explore your new neighborhood and get to know the local businesses and amenities. This will help you feel more comfortable in your new surroundings.
5. Be patient: It takes time to adjust to a new place, so be patient with yourself during the transition period. Settling into a new home is a process, so take it one step at a time.
Making the Most of Your New Office Space
If you're in the process of relocating your business, congratulations! A new office space is a great opportunity to freshen up your company's look and feel. But before you start packing boxes, there are a few things you should keep in mind to make the most of your new office space.
First, take some time to consider the layout of your new space. How will employees be working together? Where will common areas be located? Will you need any special accommodations for storage or equipment? Answering these questions ahead of time will make the move-in process much smoother.
Next, think about your company's culture and how you want that to be reflected in your new office. Do you want a more traditional look with wood paneling and dark colors, or something brighter and more modern? What kind of furniture would best suit your employees' needs? And don't forget about the little details like artwork and plants – these can really make a space feel like home.
Finally, don't forget to budget for the actual move itself. Hiring professional movers will save you a lot of headaches (and backaches), but even if you're doing it yourself, there are still costs associated with packing materials.
Dealing with Common Problems during a Corporate Relocation
Relocating your business is a big undertaking. There are a lot of details to take care of, and things can often go wrong. Here are some common problems that can occur during a corporate relocation, and how to deal with them.
1. Employees Don't Want to Move
This is one of the most common problems faced when relocating a business. Employees may not want to uproot their lives and move to a new city. To combat this, try to offer employees incentives for making the move. This could be in the form of a raise or promotion, or even just extra vacation days. If you can't offer anything financial, try to make the move as easy as possible for employees by helping with the logistics.
2. Businesses Lose Customers
Another common problem during a corporate relocation is that businesses lose customers. This can happen for a variety of reasons, such as the new location being inconvenient for customers or because they're loyal to the old location. To combat this, make sure you have a good marketing plan in place before you move. Make sure your existing customers know about the move, and reach out to new potential customers in the new area.
3. The Move is
Corporate relocation movers
It can be difficult and time-consuming to relocate a corporate office. But with the help of a professional corporate relocation service, the process can be quick and easy.
Corporate relocation movers like Action Moving can help with everything from finding a new office space to packing and moving all of your office furniture and equipment. They can even help with setting up your new office, so you can hit the ground running in your new location.
If you're considering a corporate relocation, don't go it alone. Contact a professional relocation service today and let them handle all the details, so you can focus on running your business.
Conclusion
Moving your business can be a daunting task, but with careful planning and execution, it doesn't have to be. By following these tips, you can make sure your corporate relocation is as easy and quick as possible. Don't forget to communicate with your employees throughout the process to ensure that everyone is on the same page. With a little bit of help, your corporate relocation can be smoother than you ever thought possible.