Edmonton Secure Storage Units
Edmonton is a special city. As its nickname 'gateway to the North' implies, it is situated as the Northernmost metropolitan area in North America. That's a lot of North. Located along the North Saskatchewan river, saturated with parkland, and surrounded by exquisite scenery, it is no wonder that Edmonton attracts travellers from across the globe (enormous shopping mall aside).
To further churn up the melting pot, our city has a thriving cultural scene, is regarded as a hub for entrepreneurs, and boasts some incredible dining.
It has much room for visitors and travelers, and those who want to stay here, either on rent or permanently, and access its beauty.
Action Moving and Storage could probably fill up an encyclopedia with reasons why people love to visit or make Edmonton their home. While there is no question that Edmonton is special, another question arises: What do all of these people do with their stuff?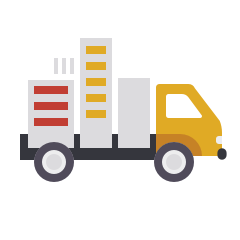 Secure Storage
Residents, snowboarders from Jasper, aspiring entrepreneurs – they all have storage needs that extend beyond the capacity of their home or business. This is where Action Moving and Storage steps in with our storage tips.
We offer a secure storage unit which is  perfectly sized to accommodate the storage needs of anyone with too much clutter, or not enough time, on their hands.  Our self storage units have also been the favourite of many!
Afterall, Action Moving and Storage has the best and most reliable storage units in Edmonton, AB.
We are here to take the stress out of moving by offering a perfect storage unit that matches your moving needs.
Availability Of All Storage Units
We have a diverse range of unit sizes, and whether you want small units, medium units, or large units, our storage facility is here to help! We also have commercial storage units for business storage, so you can fill or empty your office space by moving the equipment.
When it comes to seasonal items, we also provide climate-controlled storage units. We have the lowest prices in terms of storage solutions, and our team is dedicated to protecting your precious items.
Our exceptional services and all kinds of storage solutions make us a reliable Edmonton storage company.
Features of our Storage and Moving Process
Our professional movers will arrive at your residence or office, load up any furniture, boxes, tools, household items, or possessions that you want to have stored. We provide packing supplies.
All items will be tagged, labeled to the storage unit, and the moving team will provide you with a detailed listing for your reference. We protect your belongings in our locked storage facility with moving pads and blankets. You can feel confident that all your possessions are secure in our waterproof, fireproof, and rodent free storage facilities. When you are set to have your items returned from storage, we load everything back into our trucks and deliver them to your requested location.
Residential Storage
One of the main benefactors of our storage facilities are families who are migrating to new homes, or renovating their current ones. In these situations, our team offers safe and protected storage space, and also a crew of well-equipped professionals who can handle the physical moving process, so you can move to your new location happy and stress-free!
We offer monthly leases that can be extended to suit the busy schedule of a family on the move to a new location. We help you move in and out of the house with ease!
Store your household goods in a storage unit until you have a spot for them. You'll save even more money when you use our convenient monthly lease. It's the right option for short term residential storage in Edmonton, AB.
Entrepreneurs and commercial users will also find great value within our storage amenities. Construction equipment, excess inventory, records and files, you name it, and we can store it.
You can get any unit size and select units according to your storage needs.  Also, don't worry about the availability of containers!
Storage Solutions for Every Item
The containers that we use are solid air-tight, which prevents water ingress or fluctuating temperatures from damaging your goods as this provides excellent climate control. Your belongings will reach their new location safe, packed in the boxes and secured with a lock!
Make things easier on yourself by using our convenient storage service to store bulky items out of the way. Your project will go more smoothly and your belongings will stay undamaged in a safe storage place.
Are things just getting too cluttered around the house?
Zap that clutter and have the peace of mind of knowing your valuables are safely tucked away in our facility.
Storage for Commercial Users
Action Moving and Storage has been working with the good people of Edmonton for many years, and we know that one of their chief concerns relates to the security of their storage area. Preserving our client's possessions is of utmost importance to us as well. All of our units are locked behind imposing gates and are also monitored round-the-clock by security cameras while we move them to the nearby locations. Your precious artwork will be safe with us!
Solutions to all your Needs!
If you are looking for a place for tools, we have your ideal solution; keep your construction equipment safe in our secure

 

storage units.
Don't sell your excess retail inventory at a loss! A commercial unit is perfect for retail storage and your inventory will be fresh and ready to sell next year.
Do you have important archives, records, or other private items you would like to store securely out of the office? We can offer you the ultimate in privacy and security with one of our storage containers for your company's storage needs.
Have precious items that need special care? Our climate-controlled units are always available for you!
Self Storage Units
Action Moving and Storage also has affordable self storage units for people who don't want others to pack and unpack their belongings.
Offering reliable self storage in Edmonton, we have many happy customers who appreciate our efforts. We try our best to come up with unique features in our storage units that can keep the customers at ease.
So, our self storage solutions are definitely helpful for anyone, whether it's a business owner who wants to protect his office equipment or a small family wishing to find storage options to store their household items.
Vehicle Storage
Being a reliable Edmonton self storage company, we also offer vehicle storage options. We have containers with different storage sizes, and you can keep all the items indoor and protected in the unit.
Whether you have a big truck or a small car, our storage units can store vehicles of various sizes and protect them.
Also, you'll have complete access to them whenever you want.
You can also rent our storage units at affordable prices while making use of our user-friendly services.
Get A Quote!
Our 'gateway to the North' is shaped by people from all backgrounds, and Action Moving and Storage has storage space to accommodate every one of them.
If you are looking for a quote or are just curious about our storage options, don't be shy. You can reach out through our website or give us a call at (780) 474-2861 and speak with one of our customer service agents for more information.
Open Hours
M to F: 8AM – 5PM
Sa: 9AM – 12PM
Su: Closed