Reliable and Affordable Movers
Small moves can be more complex and stressful than a residential house move because coordinating with building operations can be challenging and there are usually rules and restrictions that must be adhered to. Some buildings have time limits on how long you can take to move in or out. We offer storage services for clients when needed. If any damages happen, you may also be held accountable and incur many out of pocket fees. All of these factors can compound and add to the stress.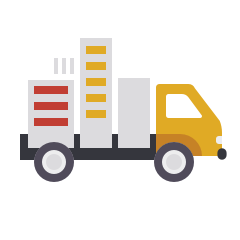 Small Movers Edmonton
At Action Moving & Storage, we care. We assure you fast, efficient, clean and reliable moving services for your home or business. We provide both local and long distance free estimates. We understand how overwhelming and challenging smaller moves can feel. When moving out of or into a multi-unit building there are many important tips to consider.
The elevator should be reserved in advance for your specific move in date; this can be arranged with the front office or property manager. Having the elevator locked down for your move helps to speed up the process and is often a requirement to load the truck.
If you encounter a problem while moving content and items that results in property damage you will be held liable. In order to protect yourself you should always have insurance in place. We offer comprehensive moving insurance that protects you from any possible accidents.
We recommend that you create a checklist. Organize all of your boxes, items and furniture before our men arrive. Being organized with a list will not only save you time and money, but it will help avoid delays, additional fees, and get you moved into your new home quicker.
At Action Moving & Storage, we are continually enhancing our systems and service and take every opportunity as an avenue of learning. Our people are professional, trained, accountable, and strive for the best for all of our valued customers. We are one of the top rated moving choices in Edmonton.
Customers Come First
We assure time-efficient moves during your moving day and can provide all of the required supplies. From a job like removing the carpet floor to detaching tightly-installed lights up the ceiling, you name it, Action Moving & Storage can do it. Our professional movers in Edmonton suggest the best way to pack and organize. Careful packing of objects like china, glassware, and antiques is no challenge. Our years of experience in Alberta in this industry help us perfect our system to give you with most convenient move. From planning, coordinating, organizing, to the actual move, Action Moving is dedicated to providing you with exceptional service. Our reviews prove it.
We use durable clean crates, boxes and cartons ready at your disposal. We can supply you with a bedroom/ apartment moving kit when needed. Our trucks and vans are mechanically sound and in good running condition at all times as to ensure no delays and the safety of your belongings. With a highly-skilled mover, moves can be stress-free. A relocation company such as ours continues to master and perfect the best system so that you have worry free and smooth moving.
Moving in general entails a lot of organization; especially if you are in a smaller unit. Asking for help from friends or family is not always an option. But hiring a pro can make a big difference. For instance, owning huge pieces of furniture, say dressers and cabinets that needs lifting beyond the strength and experience of your peers or kin is no problem for professional men in a moving team. They learn the skill of climbing up and down flights of stairs carrying delicate and fragile furniture. We have all the necessary legal papers and certificates for you to read about our credibility.
At Action Moving & Storage, our movers make your moving experience safe and easy by taking extra care of your belongings. From packing to unpacking our truck, dismantling to organizing, and up to the heavy-lifting, we are the smartest move you'll ever make. When you are looking for Edmonton moving companies, give us a call!
Open Hours
M to F: 8AM – 5PM
Sa: 9AM – 12PM
Su: Closed