Office Relocation Services and Commercial Moves
Relocating is a decision that many company executives, owners and industry leaders often have to make. Like any corporate strategy, this undertaking must be well-planned and played out because it has its risks and rewards.
We know how valuable your time and resources are, and we understand the significant disruption that an office move can have. At Action Moving & Storage, we provide office moving services to make your move stress-free.
Being professional movers in Edmonton, we realize the impact commercial moves can have, and we are dedicated to providing you with rewarding and risk-free solutions with our commercial moving services.
Our team includes certified professionals and experts, helping Edmonton companies relocate while ensuring the process stays stress-free with our great service.
Our main focus is providing you with the necessary services to minimize your company's downtime and maximize your moving budget.
We also have commercial storage services for clients needing them. Call us for a free estimate.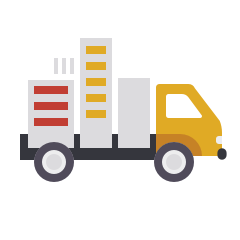 Move Your business with ease
No industrial equipment is too heavy, no job is too big or too small, and no moving concern is too tough to handle. Our storage soutions provide secure storage for all your moving needs, and from start to finish, we work to maintain the same level of promptness and professionalism.
These values are incorporated into every step of the moving process: packing, loading, transporting, unloading, un-packing and setting up. As Edmonton movers, have been providing moving services for over 30 years in the Alberta region and there is no stopping us from providing these same excellent services.
We have provided services to various of clients which include the Government of Alberta, Alberta Health, and hundreds of small businesses in Edmonton and surrounding areas.
We accept all kinds of moving jobs and are ahppy to help you move to a new location. Our team has experience in moving materials to and from a variety of industries, such as:
Clinics
Government Agencies
Hotels
Convenience stores
Factories, Manufacturing Plants and Warehouses
New Offices

 

and Private Developments
Restaurants
Schools
Laboratories
Branch Office Move
Other Industrial Enterprises
Save Time and Money
As a full-service Edmonton moving company, we're offering weekend and after-hour moves with packing supplies to accommodate your demanding schedules. Our staff will do whatever it takes to make your move a convenient transition and an absolute success. No two jobs are alike and each move poses its own unique challenges, this is why we will collaborate with you to develop a moving plan that fits the needs of your business and employees.
Whether it's office moves or moving an enture house, our employees offer a stress-free work environment to make your moving and storage needs easier.
As one of Edmonton's best home and commercial moving companies we offer flexible packages with a variety of solutions that you can choose from:
Project design, planning and management
Cataloguing and Inventory services
Site survey and space optimization
File systems reconfiguration and records retrieval systems
Packing and unpacking services
Office furniture configuration and refurbishment
Installation services
Machinery delivery
Our movers use labor-saving techniques gained with experience and are more than ready to take on and accomplish any moving concern you have. In fact, these uniformed and friendly movers are always excited for any kind of logistically challenging task provided by their customers on their moving day.
They are a skilled and experienced crew that understand the necessary protocols for moving business equipment fand belongings from sensitive electronic devices, office furniture, lab equipment, and office accessories. We know that it's not easy to just let someone else pack up, carry and transfer the very tools and resources that enable your business.
That is why hiring trusted office movers to handle your items with care and respect is important for packing materials and moving them.
Let us take the responsibility of moving your business to the right place for a very reasonable cost. We can make the cost-effective decisions and preparations that you might not have time to attend to. We can plan what course of action to take and execute each to perfection. For more information on our corporate services, storage rental or a free estimate on local or long distance, please contact our Edmonton Office at 780-474-2861.
Open Hours
M to F: 8AM – 5PM
Sa: 9AM – 12PM
Su: Closed