Reliable and Affordable Movers
Long journeys are intimidating and exhilarating at the same time. Especially if your distant destination will become your new home or location in the foreseeable future. On top of that, all your valuable belongings, both big and small, are part of the long and unpredictable ride. This is the usual plot for homeowners, businessmen or students who have decided to relocate to a place away from their current locale. Naturally, feelings of uncertainty and uneasiness can arise when planning a long distance move. But, it doesn't have to be so, Action Moving & Storage, your Edmonton mover believes that residential moves can be stress-free journeys that you and your possessions can take pleasure in and enjoy.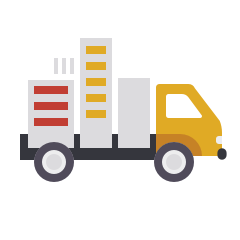 Moving to BC? Moving to Saskatchewan?
We offer moving and storage services to and from centres in BC including Vancouver, Kelowna, Penticton, Salmon Arm, Kamloops, Invermere, Radium, Sakatoon, Regina, etc. Give us a call at 780-474-2861 for a price quote.
As one of the best Edmonton residential moving companies, we strive to ensure that your items remain secure and intact by keeping them in the exact condition you left them. Action Moving & Storage guarantees on time and on budget pickup-and-delivery services that entitles your belongings to a first-class ride to their new location.
We offer free estimates and will carefully evaluate our needs, disclose all procedures, and identify any concerns for your move. Our rates and packages are straightforward, affordable and flexible with no hidden costs. We move at your pace and based on your preference. The entire move process will be smooth and well coordinated since we have a top-notch network of service centers strategically spread across Western Canada.
Out of Province moving service features
Full service or do-it-yourself options (packing)
Packing and unpacking services
Moving Supplies
Detailed and photo inventory
Carpentry and custom crating for fragile items
Disassembly and assembly of furniture and appliances
Connection services
Our knowledgeable and reliable long distance movers will deliver your goods quickly and safely. We also have experienced personal relocation consultants who can develop customized moving plans that will cover all your moving expectations. As your team of Edmonton movers, we will iron out all the details and come up with the best plan for your move. Our team of relocation consultants, van operators and home office staff settles for nothing less than excellence.
We treat your belongings as if they were our own. All of our moving tools, containers and equipment are clean, reliable and constantly updated. Our trucks, which are fit for long road trips, are maintained regularly and meet all road standards and regulations.
Moving to a new city or town is a big step for any person or business and for that we at Action Moving & Storage will do our best to help you. We will make all the arrangements, do all the work and get you happily settled into your new area wherever it may be. We help make this next big step in your life easy. Give us a call right now to get started!
Open Hours
M to F: 8AM – 5PM
Sa: 9AM – 12PM
Su: Closed