Reliable and Affordable Student Moving Company
Transitioning from high school to college or university can be a challenging and daunting process. Not only are you going from being dependent to independent, but you may also be leaving the home you grew up in. Whether you are the parent or young adult the experience is often physically, emotionally and financially challenging.
Action Moving & Storage, your friendly Edmonton moving company, understands the stress this process can have on families and we are more than willing to help ease any burden through our cost-effective Student Promotion. All university and college students receive a 10% discounted rate on our moving and storage fees.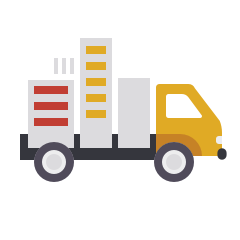 Student Moving Services
Home-to-school relocation and vice versa
Room-to-room and building-to-building relocation
Short notice moves
Simple pick-up and drop-off
Secure packing and unpacking
Full-service delivery and assembly
Furniture assembly and installation
Secure storage
From relocating to shared dorm rooms to transferring to classy off-campus apartments, our Student Package guarantees excellence that is truly deserving of an A+ rating. Our student movers understand every bit of concern that arises in any kind of school related relocation. They have successfully moved items to and from dormitories, fraternities, apartment buildings and off-campus housing accommodations.
Professional moving services know how to pack, deliver, and install anything that can be found in a student's room; whether it is important student records, fragile electronic devices or any bulky furniture. None of your belongings are too challenging for us to safely handle and deliver.
Our movers are honest, friendly and experienced service professionals who know can provide you with the best solutions. Furthermore, they also know a thing or two about the rigors of university. They are specialists in orchestrating student moves, whether big or small. Throughout the entire moving process our movers will provide top-notch service at our discounted student rate. Action Moving & Storage is one of the most affordable moving companies in Edmonton with great customer service.
Edmonton Student Movers
Our strategy and execution, above everything else, is solely based on your preferences and expectations. We can pack, arrange and deliver your belongings according to your most urgent needs and at your most convenient time with no hidden fees and charges. Rest assured that we ensure the quality, punctuality and professionalism of our work.
We provide the best packing supplies and deliver your possessions using the best equipment and moving vehicles. We even suggest the best driving route to the new location to increase efficiency. Through our free moving quote, we give accurate cost estimates and provide valuable moving advice.
For parents and students alike, college or university life is a tough period due to the ever increasing academic pressure and school related expenses. With your best interests in mind, we always aim to provide parents with on-the-budget moving packages that will allow you spend on the more important things in life. And for all the students, we ensure by not causing any moving delays that you won't miss your first day in class, your much awaited university welcome assembly or any other memorable college experience that you might encounter.
Action Moving & Storage will not hesitate to go the extra mile if it means that it will give you, our customers, the best moving cost and service available. Contact us today for a free quote and to learn more about our discounted student rate and to book your move.
Open Hours
M to F: 8AM – 5PM
Sa: 9AM – 12PM
Su: Closed