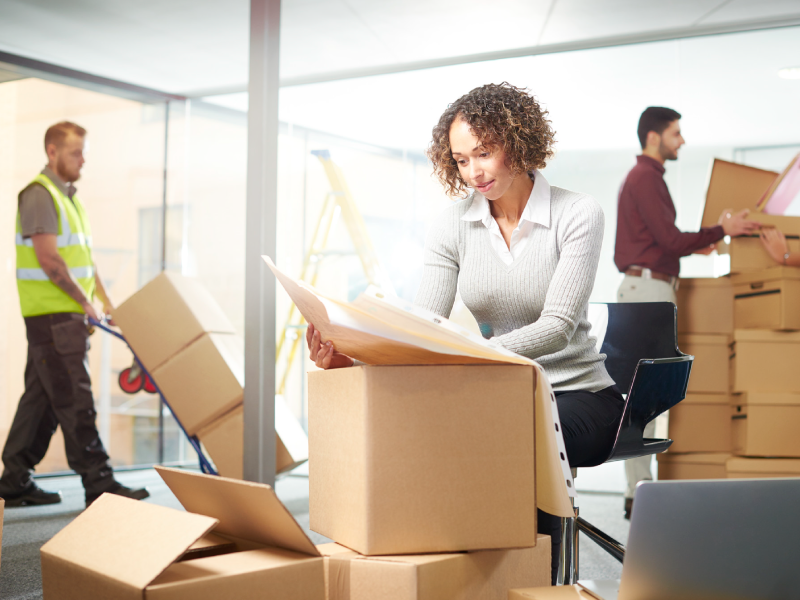 There is a drastic difference between a residential move and a commercial move. When something goes wrong in a residential move, you can often deal with the consequences of not having a said item, at least for a few days. However, when it comes to a commercial move, you often cannot afford that luxury.
Office moves entail a larger degree of responsibility. Livelihoods are on the line depending on the success of your business. Let's face it, transporting your business is a big, important, and at times an overwhelming job. That's why we want to help!
At Action Moving & Storage, we want to take the stress of moving your office away and make the whole experience a pleasant one. We will take care of everything for you:
Desks: for employees to work at
Computers: that enables the vale that your company creates
Tools and Supplies: that employees reply on
Paperwork: documents vital steps in your process
Imagine this scenario; a computer gets damaged during the move. Boxes and files were mislabeled and dropped off in the wrong departments. Your previously perfectly organized drawers get all mixed up. Essential tools are simply lost during the transport. A desk's leg broke off while unloading. Even worse, imagine you could not find a big physical folder of sensitive client information. These are stressful times that we work very hard to avoid!
Not only is all of the above is costing you money to repair or replace, but your business is also losing money and its precious reputation from the work that is prevented or lost while these items are out of commission. And no one has the time to run around and try to fix all of these mistakes.
During an office move there is a certain amount of pressure to have a smooth and flawless transition with minimal downtime. Your staff needs to be able to resume exactly where they left off and feel impassioned and confident about their new workplace.
A perfect execution of a commercial move is a lot of stress for an inexperienced mover, but there is good news, Action Moving & Storage are professionals that can look after all your moving needs and worries. We have been doing this for over 20 years and we have been moving commercial offices with ease since Day 1.
Here are three key items that are essential to a successful commercial move:
Box coding: to ensure every box and piece if equipment is delivered to the correction location in the new office
Professional Office Moving Project Manager: to ensure that the entire process is overseen by an expert
Experienced Electronic Equipment Movers: to ensure that every delicate piece if electronic equipment is given the care it requires
We know that these items combined together makes a pretty nice recipe for a successful move and an even more successful business. Action Moving & Storage offers a variety of office moving services for any office size. We offer the three key services listed above, plus a lot more which are essential to a smooth move. If you would like to find out how we can best assist you please reach out and give us a call at 780-474-2861.